School
Skating Arena
Curling Rink
Hall
Library
Drop In Centre
Post Office
Sports Park

Facilities in Rouleau » Community Cable
TV Listings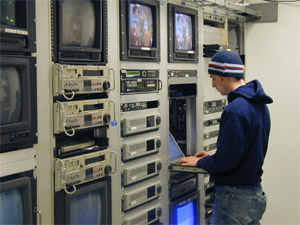 Rouleau Cable TV listings can now be found on Zap2it.com. To view our the TV listings, please click here.




Profile


Rouleau Cable TV is an associated company which was incorporated on July 23, 1974 under the Co-operative Association Act of Saskatchewan.It is a non-profit service co-operative. Earnings are not returned to the membership as dividends, but are retained by the co-operative to improve the service to subscribers or to increase and broaden community channel programming. Individual membership in the co-operative is open to any resident of any of our service areas who is 18 years of age or older. Any organization with community, member or patron service objectives, located in a Rouleau service area, may apply to become a Member Organization.The membership policy of the co-operative is not restrictive. The only criterion used in approving applications for membership, other than those stated above, is that the applicant be supportive and promote the business and affairs of the co-operative, and agree to observe its bylaws.A Board of seven directors, elected for three-year terms at the annual meetings, guides the development and operation of the Rouleau Cable TV Assoc. Inc.




Values


Integrity - We live by our belief in honesty, respect and trust in everything we do.
Employee-Centered - We enable everyone's involvement, growth and contribution in a challenging and fun environment.
Customer-Focused - We deliver extraordinary value reliably, dependably and consistently.
Community-Oriented - We are an integral part of the communities we serve, contributing to their energy and progress.
Innovative - We create and embrace change that enhances customer service, the community and our organization.




Vision


Our passion, commitment and leadership are producing unrivalled communications and entertainment services within our community.




Mission


We are a community-owned co-operative dedicated to providing exceptional communications and entertainment services and unique opportunities for local expression.




Cable Television Service Priorities & Regulations


Rouleau Cable TV operates under a broadcast license granted by the Canadian Radio-television and Telecommunications Commission. For complete information on cable television regulations, please see the CRTC website.




Cable Price


The price of cable is $52.50 / mo. and can be billed:
Monthly
Quarterly (January, April, July, October)
Semi - Annually (April, October)




Hook Up


If you are interested in cable, or require hook up, please contact:
Kelly Duncan
Town of Rouleau
Box 250
Rouleau SK S0G 4H0
(306) 776-2270




Board of Directors


Shawn Duncan - President
Jacquelin Dobson - Secretary/Treasurer
Todd Copeland
Craig Perkin
Alan Hansen




Management Team


President - Shawn Duncan
Community Programming, Marketing, and Finance and Administration, - Jacquelin Dobson
Technical Manager - Craig Perkin
Customer Service - Kelly Duncan


To view the channel line up, please click here (408 kB PDF).