Facilities in Rouleau » Sports Park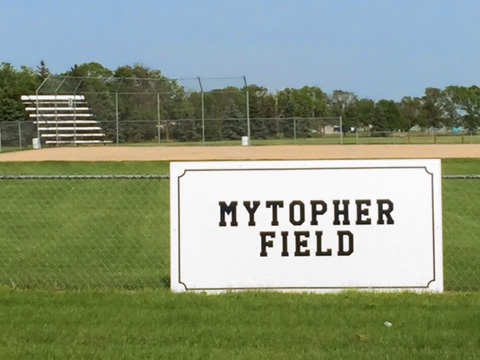 Thank you once again to our great Community Volunteers, Al Hansen & Hugh Kopp! Because of them, we have 2 more ball fields named in honor of long time Rouleau Residents, Len Lee and Bert Balderston. Both Len & Bert gave generously to our community over many years and what a wonderful way to remember them. These 2 fields, along with the Mytopher Field, saw both minor and adult ball this season. What a joy to see the sports park in action.

Our sports grounds NEVER looked better than they did this year as "Project Managers" Al & Hugh undertook the task of revitalizing the school track and ball diamonds. They have spent countless hours (1200 +) mowing, grooming, trimming, pruning trees, building the new beach volleyball courts and soccer field and they continue to maintain all on a weekly basis. And thanks to Hugh & Tim Chamberlin, the Community Cemetery looks amazing!

We know that Al & Hugh have had other volunteers who helped them at times and we want to sincerely thank these folks as well for their time, use of machinery and donations of materials.

Al & Hugh take great pride in their work and it shows in everything they do. It is amazing what these 2 individuals have accomplished over this 2015 season and we - as the Town and members of the Community - want to say a very sincere Thank You to them both.